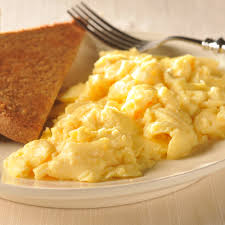 Thursday afternoon, I lost my grandfather.
I'll be the first person to admit, there wasn't a lot of love lost between us.  My grandfather was a hard, opinionated man, unfriendly to a fault.  His death was emotional for me in a way that was more a coming-of-age emotion than a loss-of-loved-one pain.  He was my last grandparent to pass, and it made me wonder how I got to be 31 years old.  Wasn't I just yesterday 17?
Some of you might  be wondering where this post is going, and where the food is coming in.  Well, sitting in the hospital Thursday afternoon, watching my mom and my aunt, listening to each breath my grandfather took, my mind wandered back in time to all my grandparents, each unique in their own way…
Scrambled eggs always make me think of my grandfather Fred, my most recent loss.  Years ago, when I was a small girl, for some reason my grandpa was babysitting me. I remember sitting in their kitchen, at the old round wood table, and he was cooking at the stove.  Burnt scrambled eggs.  Not blackened, but definitely a little crunchy.  For a 6-year-old girl, it wasn't much of a dinner.  His fix?  Ketchup….I quote "Here, ketchup fixes everything."  Ahhhh, a chef he wasn't.    But, I guess the year he made black soot boot prints from the fireplace to the Christmas tree and back for my cousin and I to see makes up for the burnt eggs.
My grandma Ruby was a wonderful woman.  She traveled the world, was an amazing gardener, and loved cats.  She raised 7 kids, including the last one that she had at 49.  That alone should grant her sainthood.  She was willing to try anything in the food world, and liked things like lamb and seafood.  She regularly made smelt during Lent.  For any of you don't know what smelt is, it is a small fish that is usually fried, and can be eaten whole sometimes.  It also has an interesting smell.  Especially for a girl who was raised in a house where we didn't eat fish unless it was is stick form.  Ruby was a giving, loving woman.  In her last few years, she lived at an assisted living center, and Keegan and I would visit her for lunch.  I think of her often.
Grandpa Fran(short for Francis), makes me smile when I think of him.  He was a man who wore sweater vests in the summer, and holiday socks at Christmas.  I remember walking to the Sparkle Market in Highland Square with him as a small girl.  He liked simple food, chicken, beef, mashed potatoes.  He used to say lamb tasted like still had the fur on it.  He wouldn't eat mayonnaise, pizza, pretty much anything that had more than one component.  I cooked for my grandmother and him the last few months they were in their house, and he would come to me with meals he had eaten years before, statements like "I had something with ham, and swiss cheese….mybe chicken.  Can you do that?"  And I'd bring it the following week and be rewarded with a handful of Halloween M&M's, even if it was Valentine's Day.  For some reason, he never had the right holiday…
Last but not least, is my grandma Ellie.  She was a neat woman, opionated and strong.  She did some amazing things in her lifetime.  I remember her making stuffing for Thanksgiving every year, and some years it was good, some years, it wasn't!  I still make a cookie recipe of hers that includes walnuts, candied cherries, and sour cream.  Joe loves them, and every time I make them I think of her.  Some years I make chocolate covered peanuts and raisins at Christmas, simply because I can still close my eyes and see the women in my family with sheets of waxed paper lining the counters, chocolate cooling.
It has been a long week, one of thought and remembrance.  I miss my grandparents, and the holiday meals we shared.  I miss the lunches they ate with my kids, the Oreos dunked in milk, the coupons for pizza saved, and the bite-size candy bars hidden in pantry drawers.
In the years I have been teaching the cooking classes, I have learned one thing.  Food brings us together.  It brings us to the table, to the counter, to the kitchen.  It makes us laugh, it helps us comfort, it brings us to tears with memory.  Today I am the woman I am because of many thing, but two of those things are the wonderful grandparents I had and will continue to think about daily, and food.